Edison Lecture Series
Modulating Innate Signaling with Self-Assembled Systems to Promote Immune Tolerance in Autoimmunity
Marian Ackun-Farmmer, Ph.D., Georgia Institute of Technology
11:00 a.m., September 28, 2023 | Carey Auditorium, 107 Hesburgh Library
There are currently no cures for multiple sclerosis (MS), an autoimmune disease in which the myelin sheath surrounding neurons is attacked. Existing treatments do not distinguish between diseased and healthy tissues, resulting in off-target effects. Immune cells attacking myelin and overexpression of toll-like receptors (TLRs) in MS are potential targets for next-generation MS therapies. Thus, we previously developed self-assembled carriers built entirely from immune signals– termed immune polyelectrolyte multilayers (iPEMs) to promote immune tolerance.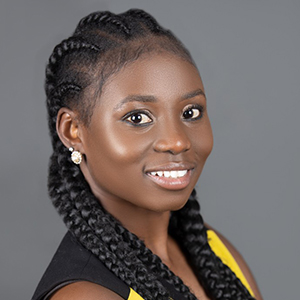 We showed that iPEMs built from myelin oligodendrocyte glycoprotein (MOG) antigens and a TLR9 antagonist, GpG, reduced inflammation and halted disease progression in a preclinical MS model – experimental autoimmune encephalomyelitis (EAE). Our present work aims to test the durability of iPEM-driven efficacy in distinct EAE models. I will describe these findings and additional work focused on identifying the mechanism of iPEM efficacy. This work highlights the versatility of iPEMs and motivates future studies to assess how changing the antigen and immunomodulator in iPEMs can drive specific immunological outcomes in other autoimmune diseases.
Marian Ackun-Farmmer, Ph.D., is an early career biomedical engineer with academic and industry expertise in developing drug delivery systems for cancer and autoimmune disease applications. After completing her bachelor's degree in biomedical engineering from George Washington University in 2012, she ventured into the pharmaceutical manufacturing industry as a quality associate. In 2015, she joined the lab of Danielle S.W. Benoit, Ph.D., to pursue her graduate master's and Ph.D. degrees. Her thesis, which was NIH F32 funded, focused on developing drug delivery systems to improve acute myeloid leukemia treatments. In 2020, she joined the lab of Christopher Jewell, Ph.D., at the University of Maryland, College Park, to pursue her interests in immunoengineering. In the Jewell lab, she engineers self-assembled immune polyelectrolyte multilayers to treat autoimmune diseases. An NIH F32 award is funding her work in the Jewell lab. Outside the lab, Marian is the postdoc representative for the Drug Delivery Special Interest Group for the Society of Biomaterials and a co-chair for the 2023 AfroBioTech conference. She is passionate about mentorship and is a current George Washington University Clark Scholars Mentor. Marian Ackun-Farmmer, Ph.D., is an incoming Assistant Professor in the Coulter Department of Biomedical Engineering at the Georgia Institute of Technology. Her group will design tailored self-assembled systems to modulate the immune system to treat cancer and autoimmunity.