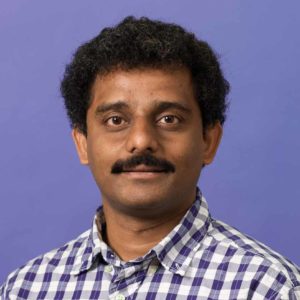 Research Associate Professor, Chemical and Biomolecular Engineering
Contact
Email
Phone
574-631-2304
Office
321 Stinson Remick Hall of Engineering
Areas of Interest
We explore and apply non-equilibrium electrokinetic, electrochemical and plasmonic phenomena to develop a low-cost and portable biosensing platform for the detection of nucleic acid (DNA/RNA/microRNA) as well as antibody-antigen biomarkers.
We design a range of sensing platform by using simple micro-fabrication, surface modification, gold nanoparticle aggregation, ion-selective nanoporous membrane and nanostructure assemblies.
We also work on prototyping integrated diagnostic platform.
Education
Ph.D, National Chemical Laboratory, Pune, India, 2006
M.S., Chemistry, Gauhati University, Guwahati, India, 1998